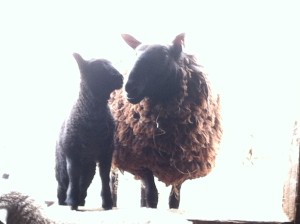 Wow! What a start to March we have had. It is certainly nice to start seeing all this snow melt, and go outside without a jacket and hat today. You can feel the maple sap coursing through the trees, and the sun on my face is doing wonders to shed off some mid-winter stress.The 2015 season has started with 24 lambs being born in the past couple of weeks (and more to come). They have been an healthy and vigorous bunch despite the sub-zero weather some of them were born in a few weeks ago. Lots of female (ewe) lambs who are going to help our flock grow in number over the course of the coming years. Along with these new arrivals our onions and early flower seeds are germinating and the of the potential of the season is growing within us.
Now's a great time to sign up for your share this season, especially now that we've made it easier for you by signing up and paying online! Hope you've taken the time to check out our new website format. It's still a bit of a work in progress and we welcome your feedback. Now all our weekly shareholder newsletters will flow from our blog post through Mail Chimp directly to your inbox. (No more awkward attachments!)This is also helping to facilitate a better searchable recipe database.  You can search by vegetable on the side bar of our blog page. Also on our web page, under Portland Summer Delivery Share you'll see bio's for the other horse-powered farms that are participating in our multi-farm summer share.  We are really excite to welcome these farms into our CSA community. They will be contributing to our newsletters over the course of the season so you will get to know them individually as well. Check out their pages here:
Terranian Farm * Wild Miller Gardens * Sandy River Farm
Hope you have a great start to your spring and we look forward to seeing you this coming season!
Best, Adrienne & Ken