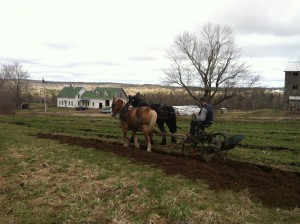 The peepers were in chorus this morning at sunrise walking up to the barn to do chores. Their cheerful chirps welcoming the day and night this time of year. More than a warm sunny day they signal the shift in the season to me. It's hard to believe that the weather is finally turning and we are starting to get our hands in the soil after a very long winter. Fresh blades of green grass are poking through the remnants of last years growth and bright red robins stick their beaks into the just thawed ground in hunt for earthworms. The phoebes are mating and our horses are sassy with spring fever. Soon our new lambs will be out on fresh grass for the first time after a few months on mothers milk and second cut hay. Our first lettuces, herbs and salad turnips got seeded in our greenhouse last week and are already germinating. Our greenhouse is bursting at the seams with seedlings bound for your shares and market baskets this season.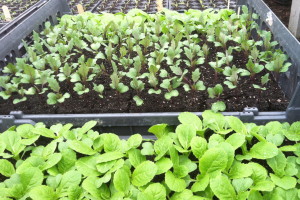 We broke ground last Wednesday (hooray!) and have gotten a half acre plowed, disced and ready for planting. Check out this video of Ken plowing. Beets, peas, chard, cabbage, broccoli, and lettuces will all go in this week. We are excited to welcome Alexis Zimba-Kirby to our farm crew this summer. She started a few weeks ago and has been a huge help getting the season going. Check out her bio here.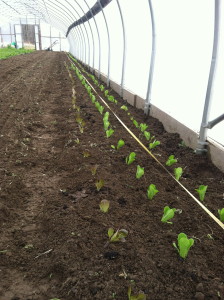 It all starts now, the intention in the seed, the energy of the earth and hands to plant them. If you haven't signed up yet for our delivery CSA or market share nows the time to secure your share of the harvest! Spread the word about how great it is to support horse powered farms and to be a part of the New Beat Farm community. This month we are going to have a big push to fill our shares for the summer and we can use all your help. If you have a workplace or community space that you want to post our flyers or brochures at please let us know and we'll mail them to you. First Summer Share this year will be June 23rd, looking forward to seeing you all then!
Happy May! Adrienne and Ken
Want to hear more about what's happening on other participating farm in our CSA? Check out a few of our Facebook pages.