We are excited to be a part of this multi-farm CSA!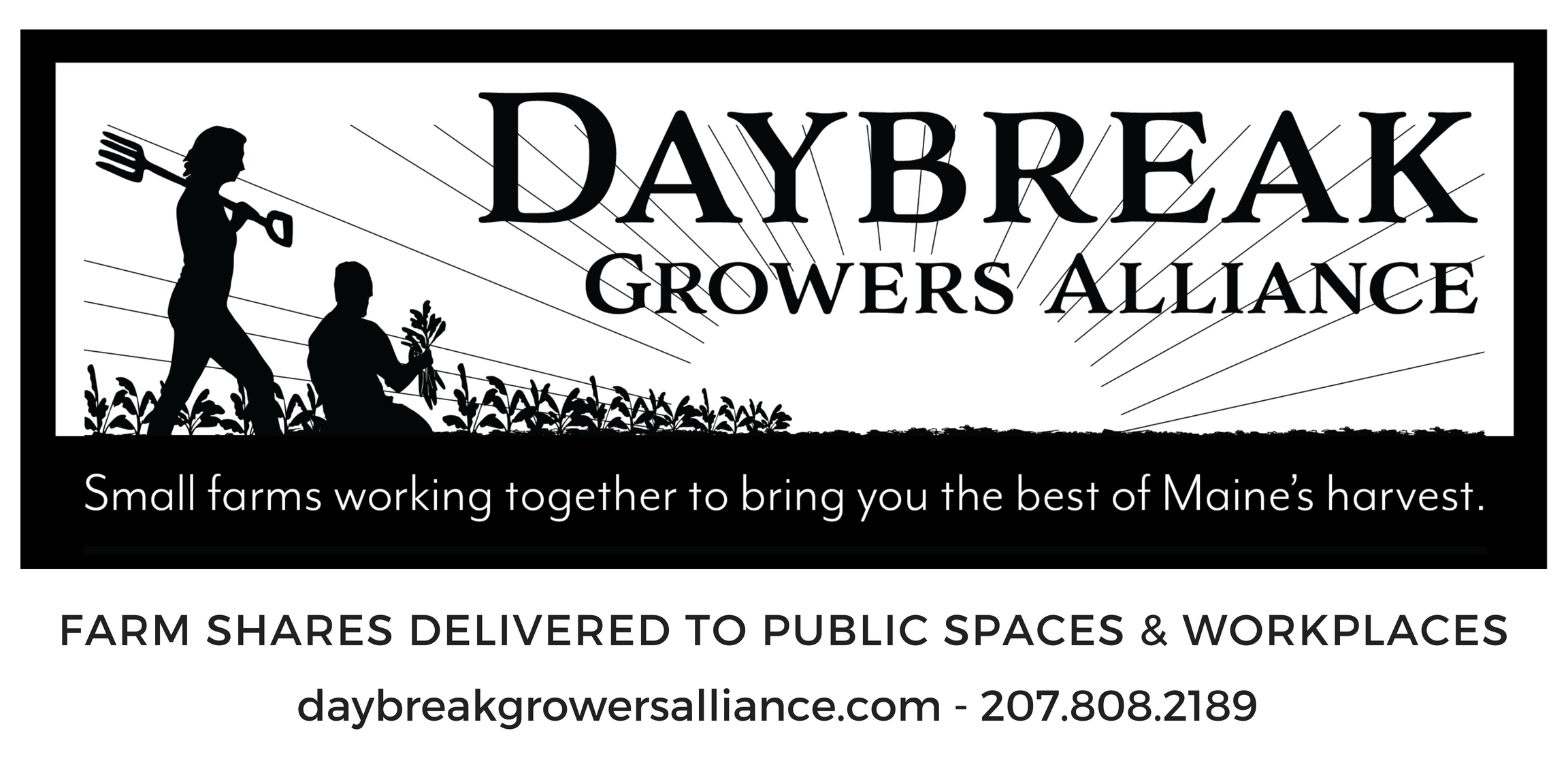 Diverse Maine grown food delivered to your workplace or community space throughout the year from a collective of small family farms in your community. CSA shares available Weekly or Bi-weekly. Streamlined pay-as-you go online credit card system.
sign up for your share at:
Year Round Share options
Winter Local $25 Box
6-8 seasonal Certified Organic vegetables, designed for 1 to 2 adults
Winter Family Bounty Share $40
8 to 12 seasonal Certified Organic vegetables, designed for a family of 4 or more
Winter Eat your Greens Share $15
3 to 4 types of greens in each share. Includes salad greens and cooking greens
Organic Meat Share $35
3 to 4lbs of basic cuts may includes beef, pork, chicken, or lamb.
Organic Ground Beef Share $20
2lbs of Organic Ground Beef
Farm Fresh Egg Share $ 5
free range and GMO free
Artisan Cheese Share $ 12.50
variety of Maine specialty craft cheeses, 12-14oz (1 to 2 cheeses) per delivery
Back 40 Bread Share 6.50
Weekly loaf of bread from Back 40 Bakehouse
Milkhouse Yogurt Share
Yogurt made from their Certified Organic, whole milk. Variety of flavors
Flower Share $ 10
Market style bouquet delivered weekly. Food for the soul!
What this new share will offer:
WEEKLY SHARES: May through October
BI-WEEKLY SHARES: November through April
PAY-AS-YOU GO options with online ordering

(much more streamlined than our website!)

Quarterly pre-pay options for discounts on shares, but you can also opt to pay weekly at time of delivery. You can sign up to participate any time of year

Online ordering system that allows you to easily change your share options, hold your share when you are going away, select add on shares when you want them
THREE SIZES OF VEGGIES SHARES: We will be growing a significant number of these veggies along with other farmers in our Alliance.
WIDE VARIETY OF ADD ON SHARES
DELIVERY SITES: Delivery sites at the Urban Farm Fermentory and Woodfords Church, as well as delivering to a variety of offices and community spaces in Portland. We will also have a new pick up site in Belfast and near the farm. Have a office that might want a delivery share? We have greater reach in our share distribution in this new partnership, so share delivery is not limited to Portland. Are you located off the 295 corridor between Waterville and Portland? Have 10 or more interested in shares? Contact us about setting up a delivery site at your office or community space.
WEEKLY NEWSLETTER: with news from the participating farms, recipes and local food news.
SHAREHOLDER EVENTS: at participating farms or in Portland.
Contact us at farmers@daybreakgrowersalliance.com or 207-620-0540 with any questions.
SaveSaveSaveSaveSaveSaveSaveSaveSaveSave
SaveSave
SaveSave
SaveSave
SaveSave