Appleton Creamery Cheese Share
Appleton Creamery Cheese Share: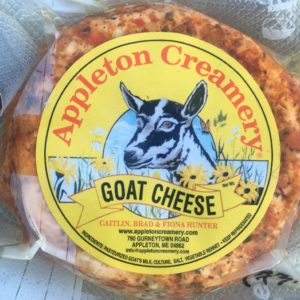 Appleton Creamery is a small-scale family farm located in Appleton, in scenic midcoast Maine, producing the finest goats milk cheeses. Our farm is small, only five acres, but well-suited to a small herd of goats. Our herd of 40 registered Alpine dairy goats provides us with milk for cheesemaking from February until December, when we and the goats take a break to prepare for kidding.
The goats are fed locally grown hay and a commercial dairy mix, which contributes to a consistent diet, producing a consistent product. Composted manure from the barn contributes to a bountiful organic garden, where we grow many of the herbs used in our cheese, as well as much of our food and lots of treats for the goats. We do not use artificial hormones in the management of our farm animals. The goats have free-range to about three acres of second growth woods and are never closed up in the barn.
Enjoy a variety of local goat, sheep and cow's milk cheese in you share each week. Each share represents one or two blocks/ containers of cheese per week throughout the CSA season. Each subscribers will receive approximately 10 to 14 oz of artisan cheese a week, depending on variety and piece size. Some of our award-winning cheeses include: chevre in olive oil, chevre spreads, mixed milk tomme, Camdenbert in both goat and cow milk, halloumi, feta, gouda, havarti, goat-chego, yogurt, ricotta, mozzarella, and new varieties that we are testing out. We try to mix up offerings each week to avoid repetition, and if there is a week when we are short on cheese, we will fill in with another artisan Maine cheese Includes recipes and advice on how to use them! This share is available in both our Summer and Winter shares.