Portland CSA
Portland  Delivery CSA
Horse-powered * Certified Organic
What is a CSA? To be a shareholder in a CSA is to be a member of a community based around a farm, Community Supported Agriculture. A member gives their support to the farm in winter and early spring allowing them to plan and buy supplies, and the consumer receives a generous share of fresh picked, certified organic produce throughout the summer and fall. In return for supporting the farm early in the season you enjoy our vegetables for below market prices, making it the most affordable way to buy local organic produce. New Beat Farm shareholders also get the opportunity to get connected to the land, hands, and horses that supply their food at shareholder events on the farm and through our weekly newsletters .
SUMMER SHARE OPTIONS:
STANDARD SHARE: designed to feed two adults or a young family, $425 for 20 weeks,  6 to 9 veggies/week
FAMILY SHARE: designed for four plus veggies eater, $600 for 20 weeks , 9 to 12 veggies/week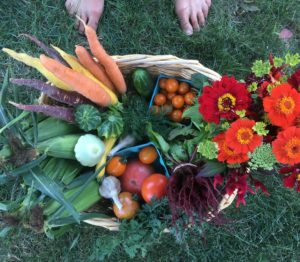 Delivery Locations in Portland on Munjoy Hill and Woodfords Church 

 between 4:30 and 6:00 at either of our delivery locations
Our Summer share runs for 20 weeks from mid-June through October

 Office Delivery Option

! If you have an Office or Community Space where 10 or more shareholders sign up we will deliver in-town Portland, Falmouth, Yarmouth.
Winter Share: November through March
SHAREHOLDER REVIEWS Here's what shareholders have been saying about us!
MODEL SHARES
Here are some images of our weekly STANDARD shares through the season. There are on average 3 more veggies per week for family shares.