Employment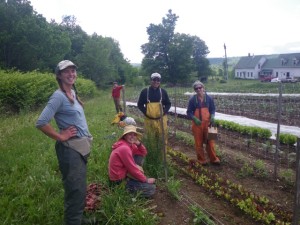 EMPLOYMENT
Although we are a horse-powered farm, human power is the truly at the heart of the day to day work! Our farm crews is the center of our farm community and not only do they lend us their backs; their positive attitudes, satisfaction in seeing a job well done and passion for farming are what make it all work!
Our farm scale affords for folks who work here to participate in a wide variety of tasks throughout the farming season, while being asked to focus and specialize in certain aspects of the day to day of the farm. The farm is managed by owners Adrienne and Ken and they are deeply involved in the daily needs of the farm. Most days one of us is working side by side with the crew while also needing to take individual time to manage other aspects of the farm business throughout the week.
We are seeking 2 full time employees this season to work with us and our Assistant Farm Manager Coral Breuer.  Our regular work days are Mondays through Thursdays with extra employment opportunities on Saturdays. This is a seasonal job, with regular work starting in late-April and going till the end of October. There is potential for summer employment opportunities June through August, and also a limited amount of early spring and early winter help available.
If your interested in applying please send your resume and brief email about why you'd like to work on our farm to newbeatfarm@gmail.com. 
Our regular work hours are:
7:00 to 5:30 Harvest Days (Mondays and Thursdays)
7:30 to 5:30 (Tuesdays and Wednesdays).
Starting Pay is $10/hr, more depending on prior work experience. All new employees will go through a 2 week trail period at $9.00/hr, with a review to follow, before increasing up to agreed upon wage.
We prioritize applicants with at least one full year of work experience on a production vegetable farm.
Farm workers must be able to lift 50lbs, be ready and willing to work in a wide variety of weather, and have the endurance and temperament it takes to work a physically demanding 10+ hour day outside. 
Work at New Beat Farm is diverse. Regular tasks that you are involved in will include:
• greenhouse seedling production of field crops and seedlings for sale
• high tunnel production management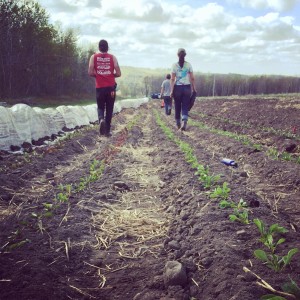 • field crop planting
• weeding
• harvesting
• washing and packing produce for market
• building and repairing farm infrastructure.
FARM WORK ETHIC
We have a whole systems approach to our outlook on the needs of the farm and we are all integral components of this system. Maintaining the productivity and the economic sustainability of the farm come first and foremost, for without these there would be nothing else. Sometimes this means working longer days than expected or changing our routines to meet these needs. Through cultivating a certain level of selflessness for the greater good we are able to see the beauty and enjoyment in our daily tasks no matter how menial they may seem and be present with the work at hand. While maintaining this greater awareness of the needs of the farm we are committed to creating a farm that improves our quality of life and that of everyone on the farm. An effective work ethic balances the health and needs of the farm with the health and needs of the individuals who work here. We expect everyone at New Beat to maintain a positive attitude and start each day on the farm ready to learn and work. We expect our workers to be driven individuals who work well in groups but also have the self-confidence and ability to work alone when needed.