Spring at the farm. Portland CSA sign up time is here.
The season is upon us. Green blades of  grass seem to multiply every day as I look out across the spring pastures here at New Beat. A brilliant emerald Winter Rye covercrop blankets the veggies fields protecting them from spring rains.  The potential of this coming growing season is teaming with energy in our already overflowing greenhouse, packed with veggie seedlings. Our bodies crave spring greens and dream of the fresh tomatoes to come. There is a lot of work to do between now and our first harvests out of the fields, but before we know it we'll be back at market and harvesting  for our weekly Portland CSA delivery.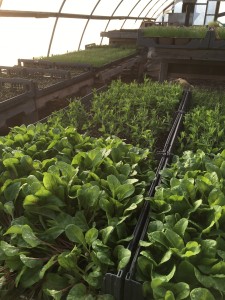 Want to make sure your get to enjoy fresh, organic produce all season long? Want to support a collective of sustainably minded, organic, horse-powered farmers? Looking for an affordable way to help your family eat more nutritious foods?  Sign up for our CSA today! You can either sign up here on our website or mail in a 2016 CSA Sign up Form  with deposit.  We deliver to two locations in Portland on Munjoy Hill and at Woodford's Church.  You can also sign up for our Market Share, good at our farmstead in Know and the Belfast Farmer's Market.  We look forward to having you be a part of our CSA community.